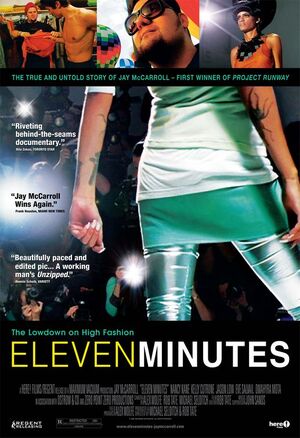 Eleven Minutes
is a documentary about
Project Runway
winner,
Jay McCarroll
's struggle to design, manufacture, and market his collection
Transport
. Transport is the follow up to McCarrol's final runway show on Project Runway. The film debut at the Philadelphia Film Festival on April 5, 2008.
Its been two years since the conclusion of Project Runway and Jay, "the next great American designer," is anxious to prove that he has what it takes to be a "real" fashion designer. McCarroll is ready to show his first clothing line, Transport. Transport features both male and female designs and was sponsered by the Humane Society.
Eleven Minutes chronicles McCarroll's year long journey from designing his first "real" show, to creating it and attempting to market and sell it. The result is an in-depth, painfully raw and humorous exploration of the creative process and the constant conflict of balancing commerce with art, fame with talent, and reality-TV with actual reality.
"Anybody involved in whatever business they're involved in, they're there for a reason. You can't tell me proctologists don't have a genuine interest in assholes; because they do." - Jay McCarroll
"Nancy, you realize my collection is inspired by diarrhea and vaginal discharge." And she'd be like, "We are all over it! We're contacting Tampax! We've already spoken to Ex-Lax; we've got that one in the bag!" - Jay McCarroll
Photo Gallery
Edit
See photos of Transport here!